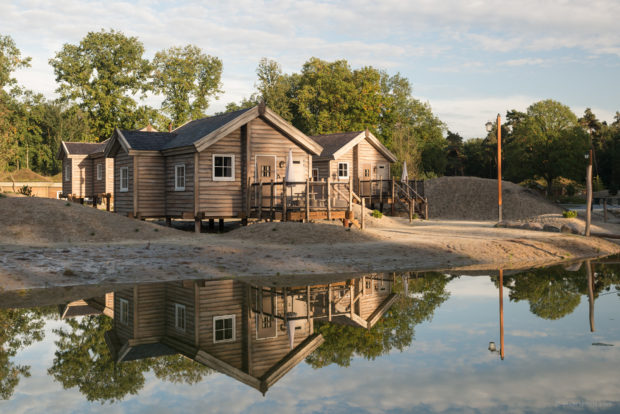 A log cabin close to the Efteling
The Efteling is a day filled with family fun for sure. I hadn't been to the park for some years, but I still remember the excitement from when I was young. I couldn't wait to see it again through my daughter's eyes.
We decided to make it a weekend and stay in one of the Park's Holiday Villages: Het Efteling Loonsche Land. To our surprise this holiday village is located in the middle of a natural area, on the border of Nature Reserve The Loonsche Land (hence the name). The village is really beautiful. It has wooden houses, roofs made of grass and even log cabins built on poles. It's almost as if you're staying in a cabin somewhere in Colorado!
You are close to the Theme park, but close to nature as well, so I can imagine you could spend a week here. Enjoying the rides in the Efteling, but long walks and bike rides too. We were only here for the weekend, so we spent most of our time in the Efteling. But yesterday afternoon we were able to explore the Loonsche Land village a little bit. There's a playground, a little play-farm, a haystack-slide and lots of wooden-water bridges for older kids (bring extra clothes at all times!).
Eating in or out
The on-site restaurant is fresh and modern with homegrown vegetables, good coffee (very important in our family) and a farm-to-table style menu. There's a huge playing corner as well, so you can really enjoy your breakfast, lunch or dinner and let the kids play (and give them a break from your iPhone). Obviously, you don't need to use the restaurant, the cabins have a full kitchen, huge fridge and basically everything you need to cook. You can even order your groceries beforehand and have your kitchen filled with food and drinks before you arrive.
Well…I have to run now to catch the last train into the Theme Park. It's so cute and looks like an old steam train. And it's convenient, because it takes you right to the entrance. (we could have used our early bird access as a guest of the park, but a little sleep-in never hurt anyone!).
More about the park next time!
SaveSave
SaveSave
SaveSave
SaveSave
SaveSave
SaveSave
SaveSave
SaveSave
SaveSave