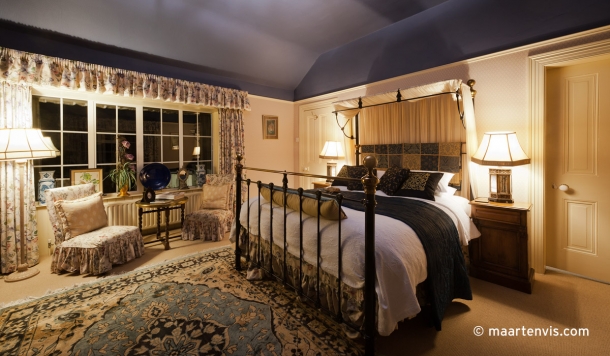 Maybe it's the holidays I used to spend in the UK as a little girl. Maybe it was my room decorated with flower wallpaper and pink striped curtains. Or maybe it's my mother – a Laura Ashley addict, who infected me with a more than average likeability for the magazine Country Homes and Interiors and the BBC show Escape to the Country. During family dinners we all share our dreams of buying a cottage somewhere in a cute little village, wearing Hunter boots and drinking tea all day, ending each sentence with high pitched voices exclaiming: "Escape to the country!" Well, I had another one of those Country-moments last night in Ireland.
We stayed in a country inn named Whitepark House, close to the northern coast in Ballintoy. The place could have been a set for Laura's 1980 brochure: rose curtains, peony printed cushions, painted ceilings, heavy rugs, Tiffany lamps and piles and piles of Country Homes magazines everywhere. A cosy fire, tea and shortbread cookies added to this perfect interior. I loved it! In fact, I want to live in the place now and write a romantic novel. Anyway, the place has three bedrooms – all with a different look – and is situated in the most breathtaking environment: Dunluce Castle, Giant' Causeway and the coastal route itself, to name a few. So, if you're looking for the perfect country escape, this is it.
P.S. still so much more to tell you about Belfast and tomorrow we are driving to Derry, so stay tuned for more Ireland!