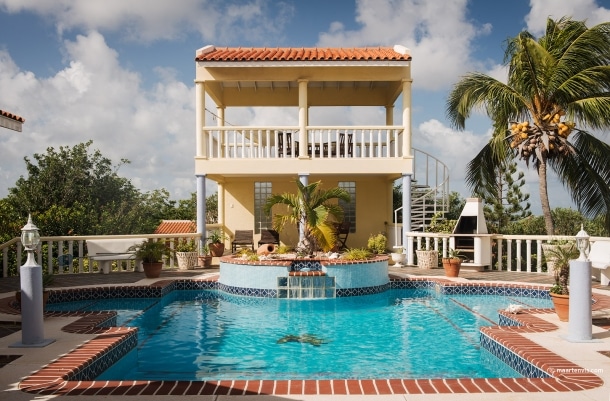 Planning a winter escape now the temperature is dropping? We just came back from a week on Bonaire, where we soaked up some sun and after a week of 35 degrees Celsius we are more than ready for winter!
From the three ABC-islands, as Aruba, Bonaire and Curacao are called, Bonaire is the smallest and the most quiet one. It's got perfect coral beaches and that turquoise sea you always long for when you're sitting behind your computer. Plus you'll find lots of nature and outdoor activities you can do, so you won't get bored if you're not a beachy-sunbed person.
Hardcore divers will also know that Bonaire is dive-heaven, but more about that later. First we want to share our favourite boutique hotel with you: La Pura Vista. This place has fantastic views (hence the name) and is located in a beautiful quiet neighbourhood, only 10 minutes from the sea. The villa has 5 rooms with huge beds (the bridal suite has a jacuzzi), a swimming pool, a lounge deck and a viewing tower with a hammock where a cocktail, a page turner and a nap are in place.
Sleep in, have breakfast on the patio and take a dip in the pool before you head off to see all the amazing island sights. Like the Washington Slagbaai National Park. Or surf beach. Or the surreal sight of the white salt mountains in pink water at sunset. We will tell you all about it in our next posts!