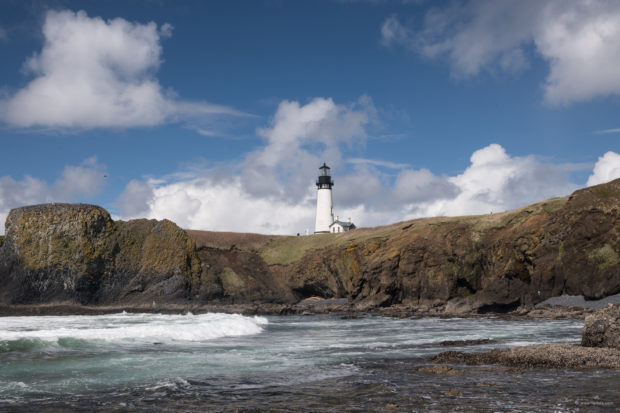 Location, Location
We love lighthouses. It's always fun to drive from lighthouse to lighthouse when you're traveling. The Yaquina Head Lighthouse, near Newport is one of the most beautiful we've ever seen. The location is just perfect, right at the end of a rocky peninsula in Yaquina Head Outstanding Natural Area. We were here on a beautiful sunny day, but it can look quite spooky in foul weather too. It's the tallest lighthouse of the state. And it's still working!
Tidal Pools
Fun for both grown-ups as well as children: tidal pooling! You'll find these tidal pools (or rock pools) everywhere along the coast of Oregon. Just make sure to check the tidal times at the visitor center or on their website. The ones near Yaquina Head Lighthouse are beautiful. We spotted a lot of sea stars, sea anemones and cool shaped pieces of wood.
Museum
When you follow the road leading to the The Yaquina Head Lighthouse, you'll pass the Yaquina Head Interpretive Center. This place is like a museum and fun for young and old. I loved to learn everything about the life of a Lighthouse keeper.
The next day we visited the Newport Aquarium. A fun place with amazing fish and other animals. They even have a tidal pool exhibit where you can spot and touch (!) all the underwater creatures you must in the wild… But more about that next time.