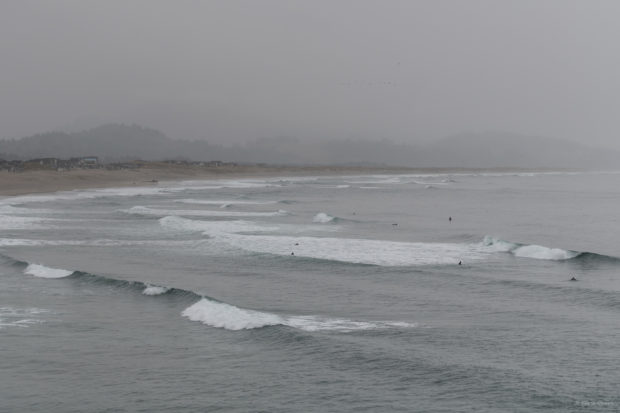 Along the Coast
Oregons coast is so beautiful. When you follow the route along the Pacific you will definitely be swept away, we for sure were. From little villages (think: wooden houses, cute cafes and bookshops everywhere) to wild breathtaking clifftops overlooking the ocean.
If you love road trips this route is a must. It's called the Three Capes Scenic Route. It takes you from Cape Meares to Cape Lookout and ends at Cape Kiwanda. When we were doing this trip it was raining cats and dogs. Even getting out of the car wasn't always an option, but in some places we were able to run to a viewing point, take in the views and jump back in the car. Luckily when we arrived at Cape Kiwanda, the weather cleared a bit, so we could have a look around.
The View from the Top
The first thing you notice is the lonely Chief Kiawanda rock, which sits all alone in the ocean in front of the beach. It's not as famous as it's cousin, but it's just as beautiful and iconic. But of course the main attraction here are the high dunes of Cape Kiwanda State Natural Area itself. I know the gigantic dunes look impossible to climb, but trust me, it's well worth the hike. It's great to watch the surfers riding the rolling waves way down below, with Nestucca Bay in the foggy distance. And there's amazing views towards the wild north coast as well. The huge waves crashing into the cape create a scary, thunderous sound. Can you imagine what is must look and sound like during a storm?!
Of course after all that exercise the big reward is running down the dune to go get a local brew and something to eat at the Pelican Pub and Brewery, which sits right behind the beach. We will continue our journey towards the south, where Newport is our first stop. But more about that next time!