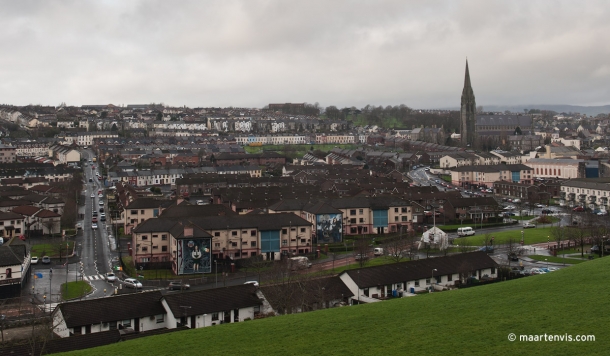 Another great city full of history is Londonderry or Derry, no one is still really sure what name to use these days. It's here where the trouble began, and while our guide – the great Martin McGrossan from Derry City tours – takes us for a stroll on the city wall it's hard not to get emotional when he tells the story of a young girl being hit by a lost bullet on her way to school. If you take a good look at the houses across the street (on the image above) you'll see a mural illustrating this sad story.
But luckily this town is moving towards sunnier times (well, not literally of course). A beautiful 312 meter long Peace Bridge connecting the two sides of the city symbolizes this feeling. The bridge looks like two hands ready to give a handshake. Make sure to cross it all the way to the other side. It takes you to Ebrington Parade Ground: a former military base turned into a parade ground, beautifully combining the old buildings with modern touches.
Another must-visit in this town is "the oldest independent department store" – Austins. Sign the guestbook at the entrance (Seriously, what department store has a guestbook!?) and have a homemade scone and a cup of tea in the top floor restaurant. The owner told us he wanted to get rid of the booths a few years back but discovered they are rather hip nowadays and kept them. Happy us!
Next time, we will tell you all about Londonderry's hospitality and our night with Bill Clinton!