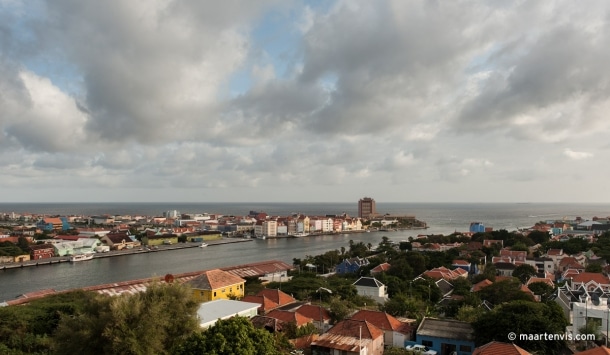 You have to at least spend a day in Willemstad. It is the capital after all. Apart from the food market – Marshe Bieuw – we told you about yesterday, here are some other highlights:
Take a guided tour through the Kura Hulanda Museum, also known as the Slavery Museum. Full of art and artifacts and with live size ship holds that give you a breathtaking (literally) feel of how the slaves were shipped.
Stroll through the pastel colored streets of the Kura Hulanda resort, once a derelict part of Otrabanda, later renovated by the Dutch entrepreneur Jacob Gelt Dekker.
Take a swing on the water by crossing the Emma bridge, also known as the Swinging Old Lady. This bridge – an engineering masterpiece – opens and closes by drifting all the way to shore. Another fun fact we just learned: the bridge was a toll bridge originally, only people without shoes were allowed to cross it for free.
Renaissance Mall & Riff Fort: if you feel like luxury shopping this open air mall is your go to place. The nearby Rif Fort also houses some great restaurants and bars in a very beautiful UNESCO Heritage Site.
Enjoy the colorful view of Punda. Preferably from the other site – Otrabanda. Make sure to pop in the Little Holland store to buy your mother an embroidered table cloth.
Another HIGHlight: crossing the Juliana bridge. It's 55 meters high, and standing on it gave me an instant fear of hights. But the views are amazing!