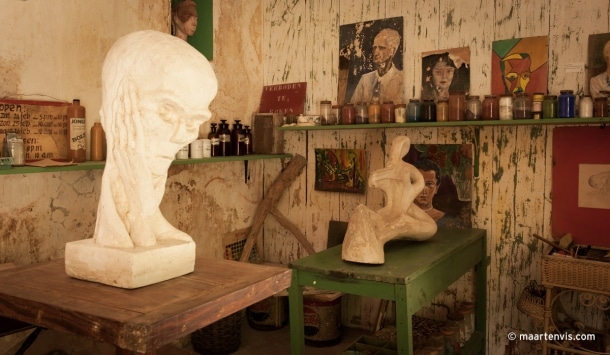 People always link Curacao to sunbathing, turquoise waters, boats and good food. But let's not forget the artistic site of the island. During our stay we visited the Bloemhof plantation and house and we loved it. It was one of the highlights of our week. Some fast facts: the house and gardens were bought by Emma Maduro Lopez Penha who used the house as a family retreat. After she died her daughter and husband, artist couple Max and May Henriquez lived in the house. They turned Bloemhof into a modern salon, inviting painters, poets and performers to show and discuss their art, making this place one of he first cultural art centers of the island. In 2002 Landhuis Bloemhof opened its doors to the public.
We were lucky enough to talk to May's daughter Nicole, an artist and writer herself, who showed us the beauty of the place. The water basin in the back of the garden. The sculptures close to the gate (stones resembling animals gathered by May, featured in Life magazine). The atelier and library that were once used by her mother. And of course the changing exhibition inside the museum. With, as her daughter tells me, nature as a starting point in every form of art. Her favorite piece of her mothers art: "La Pieta situates right under the stairs. It's two faced sculpture, depicting Maria consoling her son Jesus."
This place is an absolute inspiration and my hands started to itch (Dutch expression meaning you can't wait to start something), longing to create, make or paint. I wish we could stay for a week or two and follow one of their courses upstairs in the main house. Well, maybe next time. Yet, another reason to return to this island.