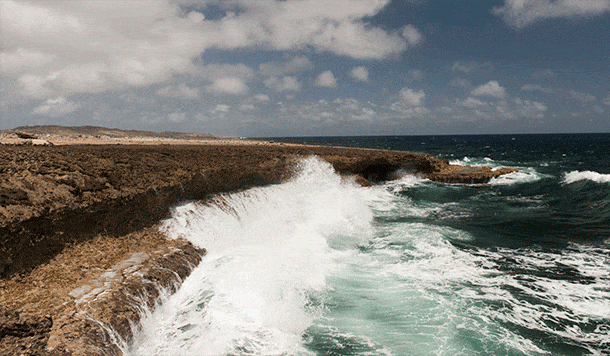 If the south coast of Curacao is where you'll find tropical beaches, the north is all rocks and power. This is where the Atlantic Ocean hits the land and it does just that, with a BANG. Boca Tabla is the most beautiful part to witness this force of nature. A beautiful rock formation, where foamy waves hit the coast and refresh you – if you're not careful – with a wet salty breeze.
We visited this part of the island early morning and if you do just like us, you'll find a beautiful road trip towards Westpunt on empty roads. Nature on this part of the island is beautiful: crazy cactus trees, vast landscapes surrounded by mountains that seem to go on forever and beautiful Country Estates. The island is small and roads can get so busy, so it really surprised us that this part of Curacao is so quiet and empty.
Oh, one more piece of advice: wear sturdy shoes or hiking boots. The rocks at Boca Tabla are sharp and pointy.