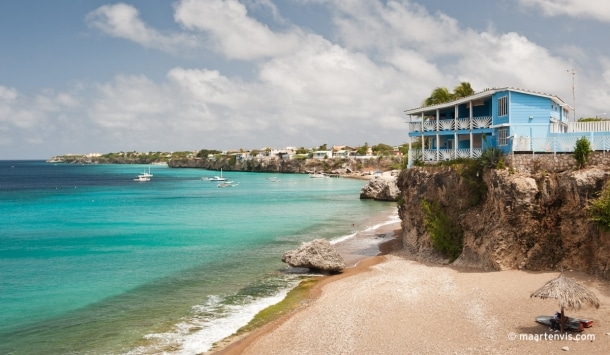 Even though we're back from the Caribbean, I can't help but stare at the pictures above and below from time to time. Reminiscing on the good times we had on Curacao. It helps. It's an instant vacation, even if you're sitting behind a screen. So here's what you do: buy some fresh coconut juice from your local organic store. Close the curtains, unless it's a warm and sunny day. (Everybody living in The Netherlands, close your curtains). Now put on this song (we used to dance to it during Carnival when we were younger). Stare at your screen and sip on your coconut juice. Works, doesn't it?
The sea at these beaches – Kleine Knip (Playa Kenepa Chiki) and Grote Knip (Playa Abu) – is so unbelievably turquoise that we almost had to take the color out in Photoshop. This is real. Bright azure and warm water with a soft fresh sea breeze tickling the hairs on your arms. Do just like the locals and bring a coolbox filled with pastechi, cold beers and crisps and enjoy a nice sunset after a hot day at the beach. PARADISE.
P.S. Close to these beaches we had the best, seriously the best Fajitas ever. But more about that next time.