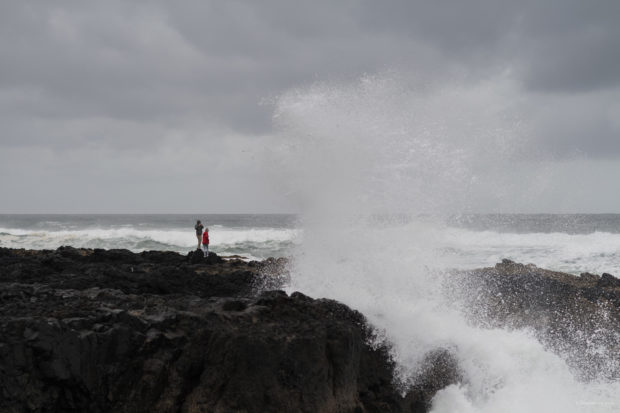 Cape Perpetua
Visiting Oregon any time soon? Make sure to add a coastal drive to your itinerary. I know, it's hard to choose, since this state has so much to offer, but we fell in love with the coast. From cute Cannon Beach to the impressive Cape Kiwanda and even further south Cape Perpetua. This part is very rugged with a coastal rainforest and dark grey rocks forming an impressive headland that at its highest point rises to over 800 feet. When we visited we were lucky it was raining and storming (I am serious here) because the wild ocean added a lot of drama and thunderous waves. More about that in a bit.
Thor's Well
You can do a lot of things when visiting Cape Perpetua, because it has so much to offer. We started with the .2 mile walk from the visitor center to the sea. A short but beautiful path with amazing views across the Pacific. As you get closer you hear the sounds of the giant waves crashing on the rocks. One of the things this part of the coast is known for is Thor's Well. A round hole in the rocks near the sea, where when the waves hit the rocks really hard the water comes spraying out, sometimes meters high. And when the water recedes it kind of looks like a whirlpool. It's quite dangerous, you really don"t want to fall in, so best to watch from a little distance away. Equally impressive are the nearby Devil's Churn and Cook's Chasm.If you follow the .4 mile loop you will pass the latter.
Tidal Pools
On sunnier days the place is perfect for low tide tidal pooling. It was a bit too rainy and stormy when we were visiting, but we enjoyed watching the was crash against the rocks just as much. And we still managed to spot some anemones and sea stars after all.