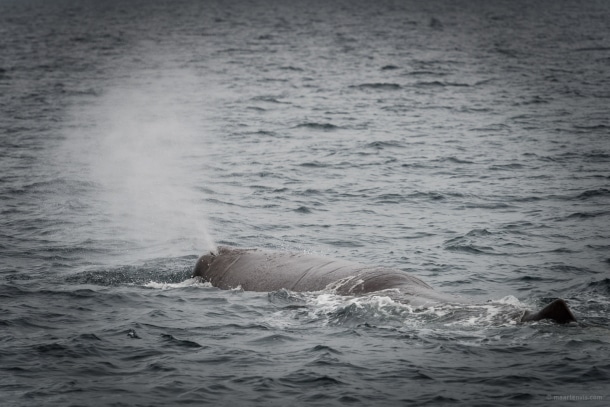 Whether on a safari trying to glimpse wildebeests in Tanzania or cruising Dal Lake in Kashmir on the lookout for a kingfisher, we love spotting animals. You can imagine we were thrilled to go on a whale watching tour above the arctic circle in Sto, Norway. The tour was organized by Arctic Whale Tours and we were guided by an actual whale research team. Even if you don't spot any whales, you'll have fun listening to the stories of the researchers!
It was a grey, cold and rainy day and we were already looking over the sea for hours. On the islands near the coast we spotted seals, puffins and cormorants gathered on the rocks. And it's great fun watching them, but of course we were here to spot sperm whales. Then suddenly someone called out: "Whale!" Everybody ran to the other side of the boat, just in time to see its gigantic tale – some whales are over 20 meters long! – disappear into the deep waters. We were lucky enough to spot several whales that day – the crew knows where most whales feed on squid and fish in these freezing cold waters. And they can count the seconds until the whale goes down again.
It is said that you'll probably never spot the same whale. They can dive over 3000 meter deep and it will take some time for them to come back up on the surface. Another fun fact: sperm is short for Spermaceti. This is the liquid found in the whales head that was used as lamp oil during the whale hunting era in the 1900's.