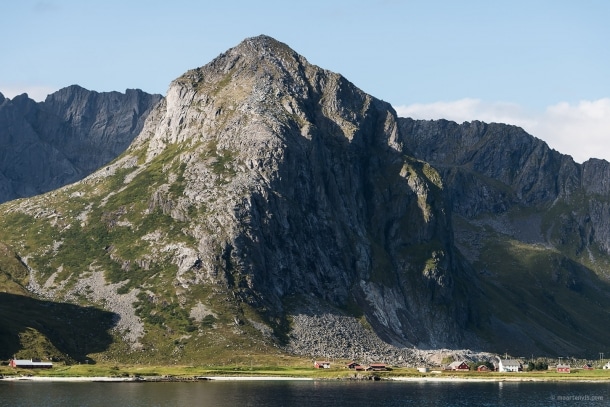 Lofoten is the ideal place for a road trip. The fjords and rough green countryside make for a beautiful scenic drive. Things you don't want to miss:
Unstad: an idyllic fishing hamlet located in between gigantic rocky mountains. This beach might look calm on our picture, but it's the most popular arctic surf spot in the world. The water is usually around -14 degrees Celsius, so bring your dry suit!
Visit one of the objects of art of the Artscape Nordland. Each sculpture is a perfect fit for its surroundings. We loved the piece near Vagan by Dan Graham. It is made of art and steel and its mirror-like effect makes you a spectator as well as an actual partaker. Beautiful! Check out all the other pieces and their locations here.
The bridges connecting the different islands of Lofoten. They are often huge and very impressive.
The cute village of Henningsvaer where you'll find a typical Norwegian harbor, but even better…art galleries, shops, lunch rooms and a candle factory that sells over a 100 different types of candles. Perfect for a souvenir-coffee-pitstop. Planning to travel here anytime soon? From the 6th till the 8th of June you can visit the Codstock Festival here. (Yes, that's Woodstock Norwegian style…)
Check out our other Norway posts here.