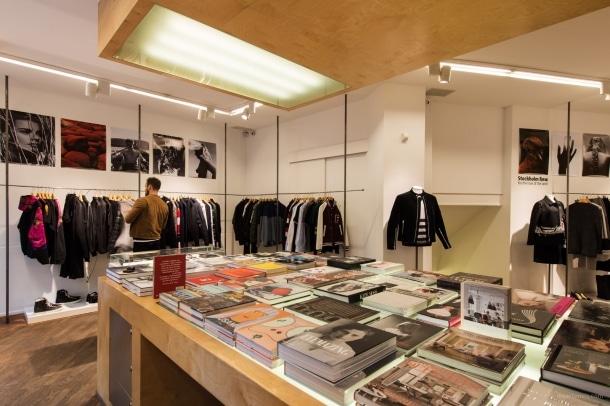 Spending a long weekend in Copenhagen? This is part 2 of our Top 10 of Favourite Things To Do in this stylish city.
You can't visit a city and not go shopping, right? Copenhagen is a walhalla for fashion lovers. From local designs and high street fashion to hip sneaker stores and even vintage finds: it's all there. In the Pilestrade area you'll find great brands like Acne and Tiger of Sweden and beautiful designer stores like our favourite: Storm (pictured above), where you'll spot Celine bags, art books, Byredo perfumes and Eytis sneakers. If you're more into local designs visit B56 close to the Design Museum.
Also, always a good idea: visiting a flea market. Preferrably one where you're likely to find vintage designer wear or a nice antique painting. Behind city hall – 15 minutes outside the city centre – you'll find the weekly market of Frederiksberg. Antiques, fashion, childrens wear and second hand toys are all displayed in stalls or on tables. Didn't find anything? Take your bike and cycle onwards to the only hill of Copenhagen (according to legends this hill was formed by farmers scraping the dirt of their boots on the same spot everyday), enjoy Frederiksberg Park, the zoo or visit the Museum of Modern Glass. Interested in modern architecture: than you'll surely love the open space street plan of Superkilen.