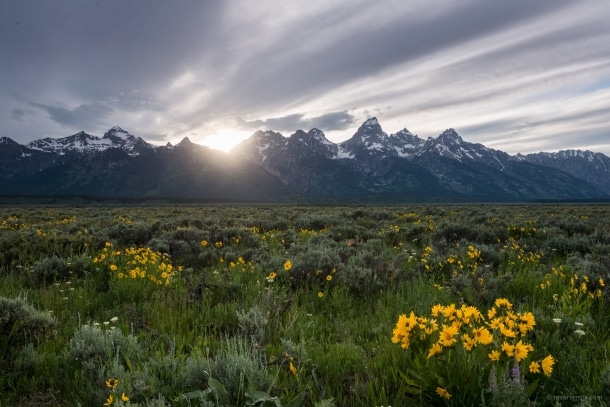 Watching the sun set over the Grand Tetons at Mormon Row is a photographer's dream. Especially with the mountains covered in snow in the background and fields filled with yellow flowers in the front. You couldn't even make this up in Photoshop, cause it's just too perfect.
Mormon Row is an abandoned settlement of wooden barns and old farms dating back to 1908. Most of them are collapsed, adding an eerie 'Walking Dead' vibe to the place, but there are a few that were recently restored. It's only a short drive from Jackson, so make sure to end your day at this picture perfect spot. If you leave Mormon Row and drive towards the mountain range you will find the beautiful flower fields pictured above.
Oh, and one last thing: park your car a little further down the road. You don't want to spoil the view or someone's winning shot with an RV rental in the frame….
After spending some amazing days in this beautiful area, we are hitting the road again in our RV. This time, we're heading further south towards the Golden Triangle. Think: more beautiful nature, staying in amazing riverside cabins and spending our days rafting a river wild…more about that tomorrow!