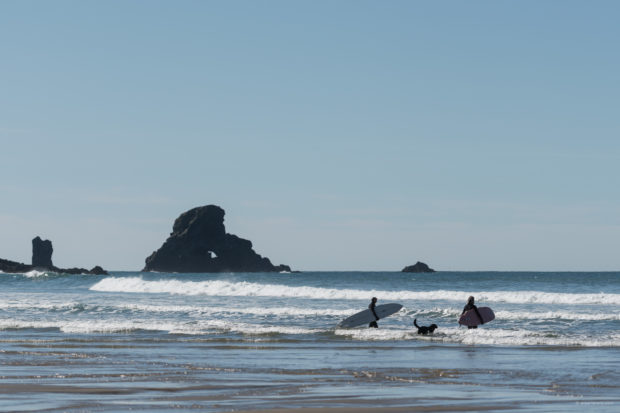 Rainforest, Rocks and Beaches
Ecola State Park is right outside Cannon Beach, the place we told you about last time – one of the highlights of our trip. Think: a state park where rainforest and beach meet and you'll enjoy the best views you've ever head. Trust me. The forest in Ecola State Park is so lush and green with moss covered Sitka spruce trees and golden ferns everywhere. Even if you don't plan to take a hike, you can enjoy nature by walking the beaches and watching the surfers on Indian Beach. Or have a picknick on one of the viewing points you can access by car. Our first stop was Indian Beach, a huge, stunning beach surrounded by dramatic cliffs and rainforest.
Short Hike
Since we were traveling with a 4 year old we decided to go for a short hike that would give us everything: the forest, a beach and amazing views. Luckily there are lots of hikes to choose form in Ecola State Park. We started at Ecola Point and walked the 1.25 mile Crescent Beach trail. (check information and maps here). The path led us through thick forest, zigzagging around (and sometimes under) huge trees, and then all of a sudden there's this amazing view of the Pacific Ocean, giant rocks – like the Cannon Beach Haystack Rock – lining the shoreline, the glistening sand 30 meters below. You can take a small detour by following the wooden steps down to the beach, something I can totally recommend. From here you can follow the same path back or walk all the way to Cannon Beach! Something we definitely want to do next time.
(Make sure to check the information boards and website when you plan your hike. When we were visiting part of the trail was washed away by the water during a storm.)