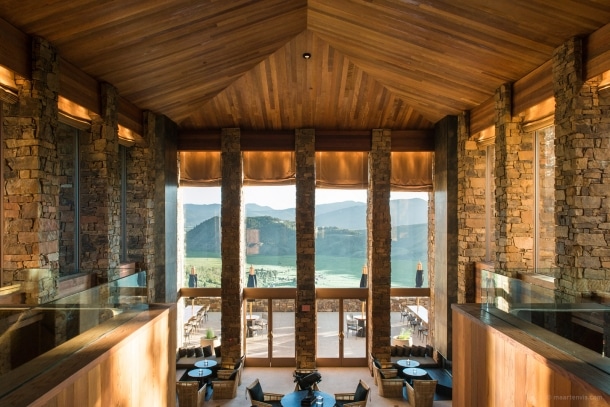 After a week of camping, we couldn't wait to spend a few nights in the amazing Amangani, a place now known as heaven. Let's start with the location: it's close to Jackson Hole (more about this vibrant little town soon) and has beautiful Grand Teton views. This hotel is built high up a hill surrounded by green grass, snowy mountain tops and fresh air.
Second: the interior. Wow. If you like wood – and we love it – this is your place. Especially the lobby with its high wooden ceilings is beautiful. (They need one month each year to treat the wood).
Obviously you don't need to leave a place as beautiful as this, so here's our little Amangani itinerary:
08:00 wake up.
08:05 fall asleep again
10:30 enjoy a quiet swim with amazing Grand Teton views and the first rays of sun while waking up on a sunbed.
11:00 hit the gym, again with amazing views.
12:00 after a bath with the homemade Amangani oil head to the restaurant
12:15 coffee and pancakes. Or waffles. Or both…it's a holiday after all and you've been working out this morning.
13:30 Sip on a herbal tea in the library and pick your next Aman stay (they have all these books with amazing pictures of the other resorts…)
15:00 A facial or massage with Himalayan Salt Scrub
16:00 How about a local wine on the terrace? We couldn't get enough of the views.
17:30 Ok, so one little trip to Mormon Row nearby won't hurt (with the mountains in the background and the yellow flowers in front of the abandoned wooden barns…this is photographer's walhalla. More about it soon).
20:00 Dinner in the restaurant, maybe with a drink in front of the fire first. and then….
23:00 Zzzzz…
P.S.
This place is great in summer, but an even better winter escape. Can you imagine sipping on a glass of red wine after a day of skiing filled with powdery snow, blue skies and amazing views?