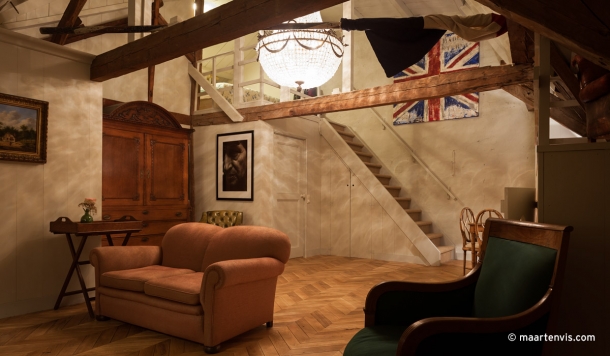 We've been to the Himalayas, the National Parks in America, small islands in the middle of the ocean and…this amazingly cute, beautiful hotel only 30 minutes from our house: Logement Swaenenvecht. The "Logement", as we call small hotels in Dutch, is located between Amsterdam and Utrecht in a small village called Oud-Zuilen and only has nine very special rooms.
The owner used to be an antique specialist and art dealer, so you can expect every room to be filled with real treasures. Ours – room 8, Isabella – had a huge living space, a risen viewpoint with an old leather arm chair (my favorite spot) and a loft-style bedroom up the stairs. If you look at the images you probably agree that this interior should be featured in Vogue Living. If you're lucky the proud owner might show you his planetarium in his own house next door. We've never seen something like it!
P.S. If you're visiting Amsterdam or Utrecht or any other place in the Netherlands, this is where you should stay. It's only a 30 minute drive into the center of Amsterdam, a 15 minute drive to Utrecht, with beautiful surroundings and very sharp prices. Restaurant Belle next door is just as cute and serves delicious menus.