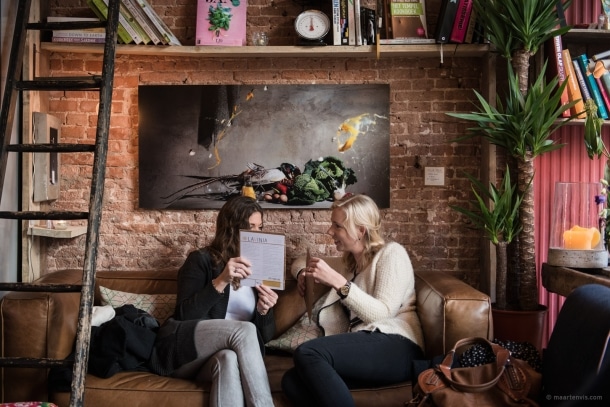 A Perfect little lunch spot
Lavinia Good Food, a perfect little lunch spot, has been in town (Amsterdam that is) for a while now and we absolutely love the decor. Think: Shelves filled with books, lots of fresh flowers, a brick wall and a large leather couch to relax while you sip your latte. The menu is perfect too. You can choose your dish at the counter, which may take a while, because everything looks amazing. My advice: For breakfast order Giulia's banana pancakes (a nice alternative to our favourite blueberry pancakes). For brunch try the sandwich with avocado, red pepper and apple. And for lunch make sure to try the delicious spelt pizetta with truffle. Add some greens with the fresh cucumber, fennel, green apple, pear, lemon and ginger juice or opt for the detox tea. Yum!
P.S. You can find Lavinia close to the Spiegelstraat and Spiegelgracht, some of our favourite streets filled with galleries, coffee shops and antique stores. But, more about that soon!